geancg
work
bio
contact
social cryptoart
TITLE
LostBullet_3D

DESCRIPTION
Lost Bullet No answers, no caption. An art to report the violence experienced by residents of all the favelas of Rio de Janeiro. Each bullet has a number of the houses it invades, which at the end of the police operation, always have an address.
My 3D interactive artwork.
COLLECT NOW ON @hicetnunc2000.
SOLD OUT :)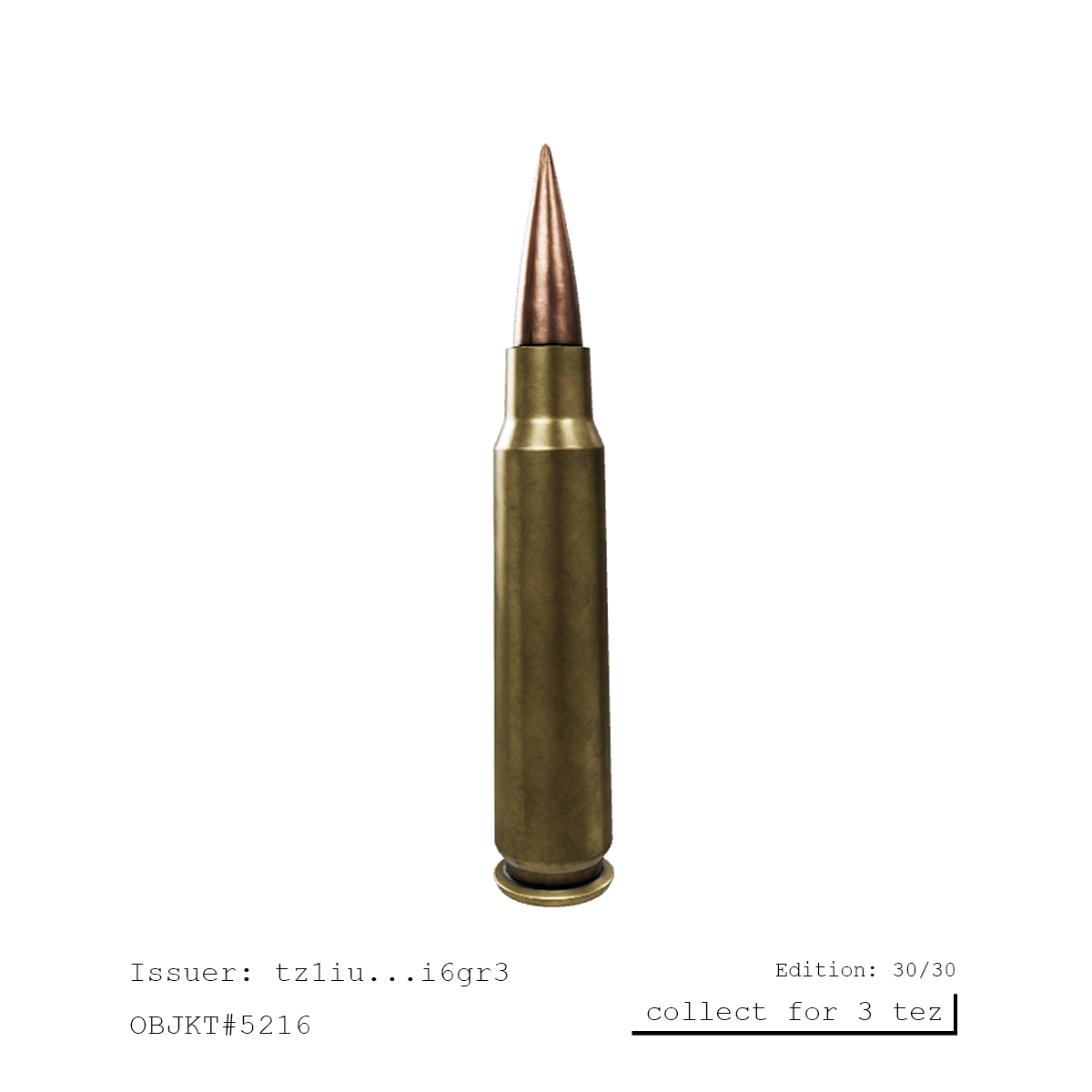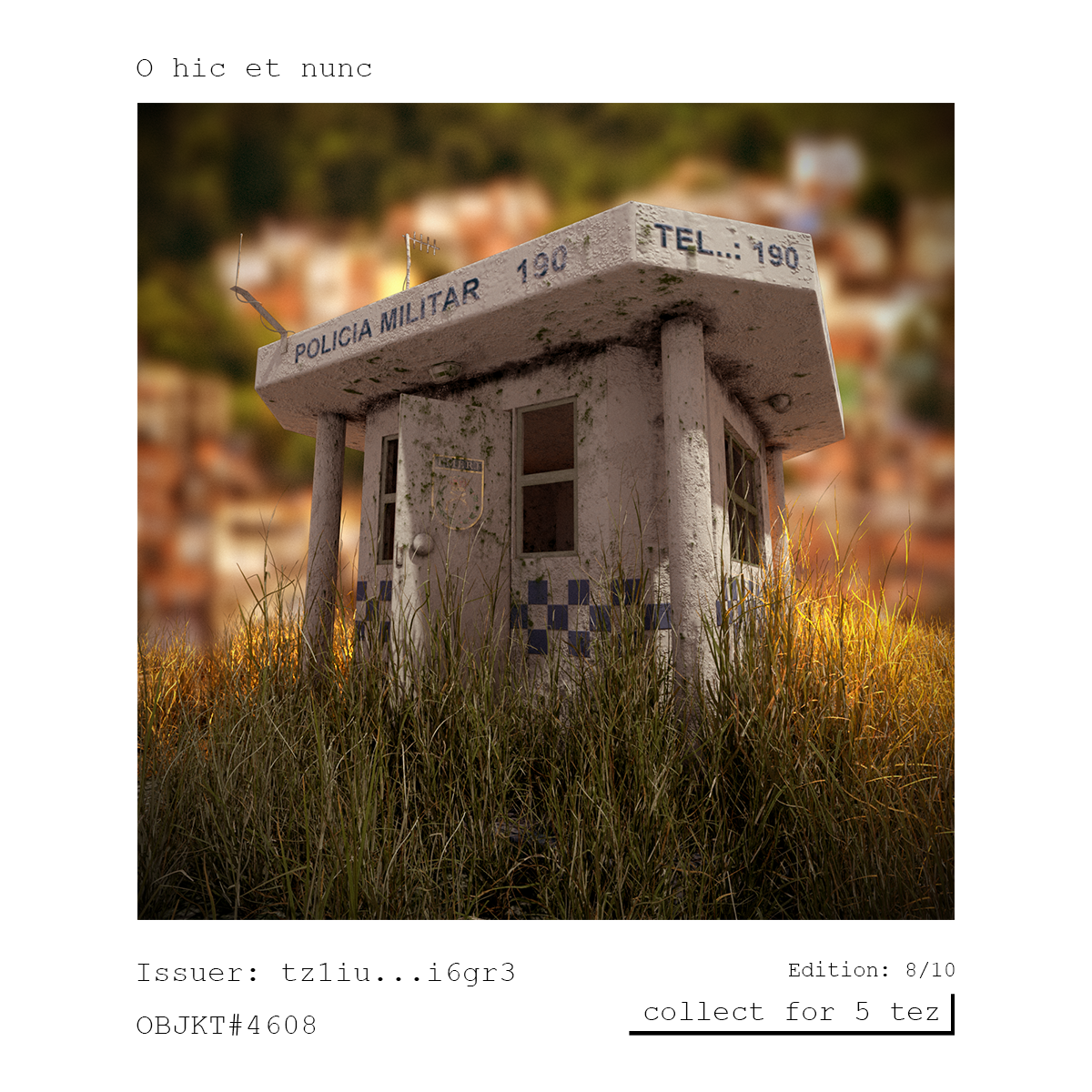 TITLE
Police Cabin, RJ
DESCRIPTION
A world of peace where police booths will cease to exist. The mistakes are so many you can't score. The hits? There are few, but I still dodge.
COLLECT NOW ON @hicetnunc2000.
Only 4 available.
TITLE
SPREAD COLORS

DESCRIPTION
The "Lança perfume" is a chemical product used to clean toilets that gained fame in Rio de Janeiro carnivals in the early twentieth century. It was discovered its potential altering state of consciousness and quickly became fever in carnival events. In 1980 it was the theme of music for Rita Lee, and currently MC Jacaré. Today, forbidden, it is a drug used in "Baile Funk", stret carnival of Rio and parties throughout Brazil.
DROP ON PUPILA DILATADA DIGITAL EXPO
COLLECT NOW ON @hicetnunc2000.
Available now!


TITLE
HUNGRY

DESCRIPTION
Commemorative coin of 25 years of the Real ($BRL) in Brazil. On the back of the coin a hummingbird feeds her cubs. Using this metaphor we link to the issue of hunger that reached 19 million Brazilians during the pandemic in 2020. And you can help some families! || The SocialCryptoart project is bringing the power of NFTs to real and social impact. || Feel free to donate to SocialCryptoart XTZ Wallet. Follow us on twitter. || @geancg1 || @socialcryptoart || → tz1ctFk8nkVr49H2pbCGDn62oG2XGSqG2ChV
DROP ON #OBJKT4OBJKT
COLLECT NOW ON @hicetnunc2000.
Available now for free!
DONATE FOR
#SOCIALCRYPTOART
(PAYPAL)
OR TEMPLE WALLET: tz1ctFk8nkVr49H2pbCGDn62oG2XGSqG2ChV
TITLE
METALBOYS

DESCRIPTION
IM OURO BOY BOT aka GOLD BOY BOT Fully artificial intelligence rich. They're from Rio de Janeiro's favelas and are made of something precious. The metal boys generated want to domain the world. Sound by @pepstarling 1500x1500px at 30fps
DROP ON
COLLECT NOW ON @hicetnunc2000.
Available now!
TITLE
SURVIVING ON THE HELL


DESCRIPTION
We walks side by side with faith. This isn't a tribute, it's a distress call. Because surviving in the favela is a miracle. But wait, its the faith bulletproof? From what? From who? In the rush of daily routine, people dodge from clear shots. How long is the bullet going to fly here? It seems that every day we live a loop. 50% of the amount collected will be allocated to the @socialcryptoart which bring the power of NFTs and cryptoart for social causes.For donations - temple: socialcryptoart.tez
TRY IT NOW ON INSTAGRAM!
DROP ON
COLLECT NOW ON @hicetnunc2000.
Available now!
Whatch the full soundrack on IGTV
Filter: pipAR

Description:
Intel's campaign, and I was able to show a little of our vision of transformation from the inside out of the Favela, through the use of Augmented Reality technology 💖 Letsgooo! #FaçaAlgoIncrível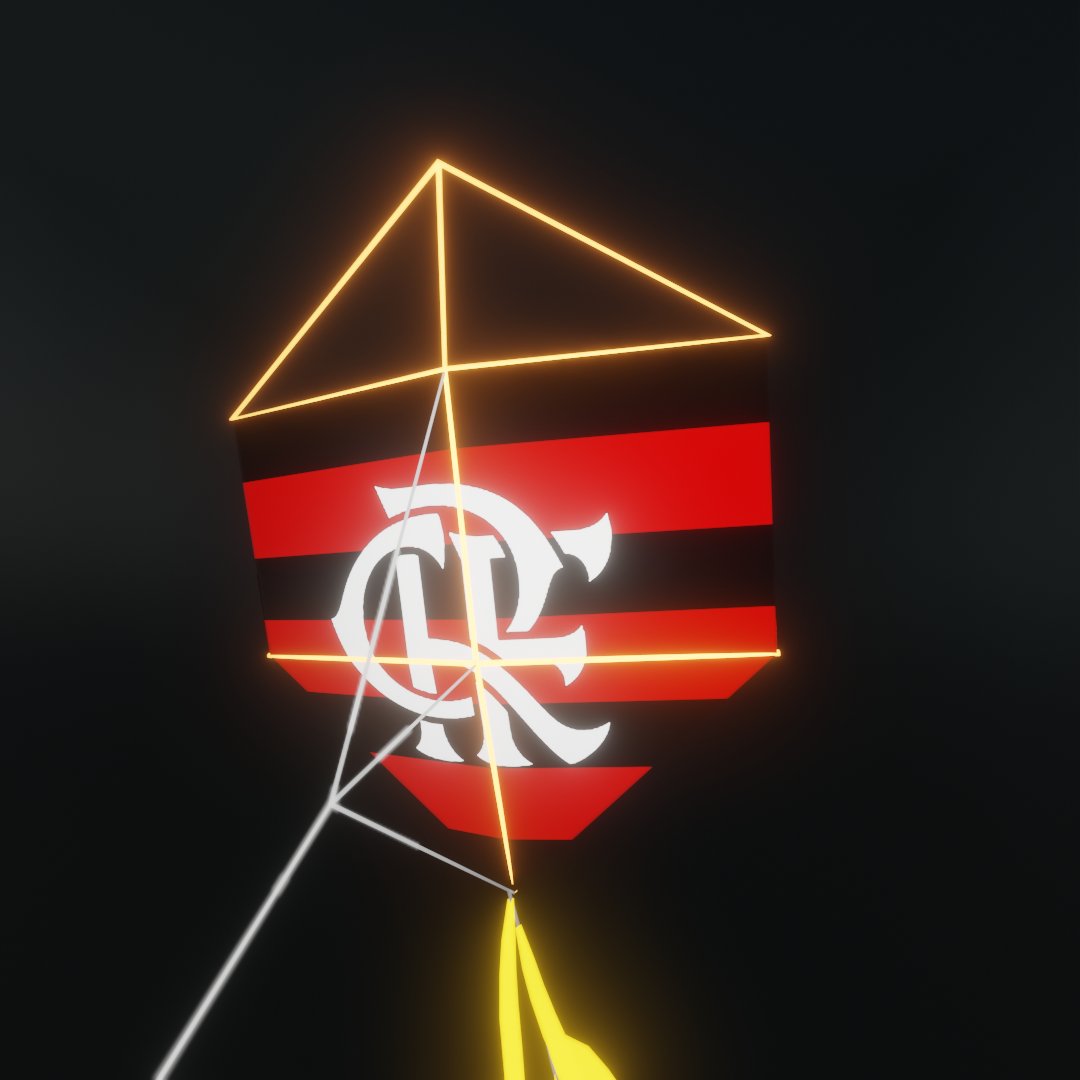 TITLE
SURVIVING ON THE HELL


DESCRIPTION
Paulinho, a 73-year-old man living on Morro Santo Amaro. He lost his humble home after an onset of fire. We're raising funds for reconstruction! And one of the ways to help is this NFT piece, where 100% of the amount raised will be allocated to the action organized by the Ademafia Institute (IG: @instituto_ademafia). || Piece developed for @socialcryptoart, which makes use of NFTS for social causes in real life. Huge thanks for the artists that collaborated: @kajaman @abuktt @marceloment @francamateus @wogelsketch @ottis.ts @remelattk @mtsabio_design @a_matesaru @tom.com.n @gasparianted @igorizy @joiacoll @viveaprende || Ways to help: 1. Collecting this NFT. 2. Donating directly for the wallet: socialcryptoart.tez (Temple) 3. Direct donation on crowdfunding. (http://vaka.me/1949348) (Credit Card, Cash)
DROP ON
COLLECT NOW ON @hicetnunc2000.
Available now!
JOIN OUR DISCORD(click here)